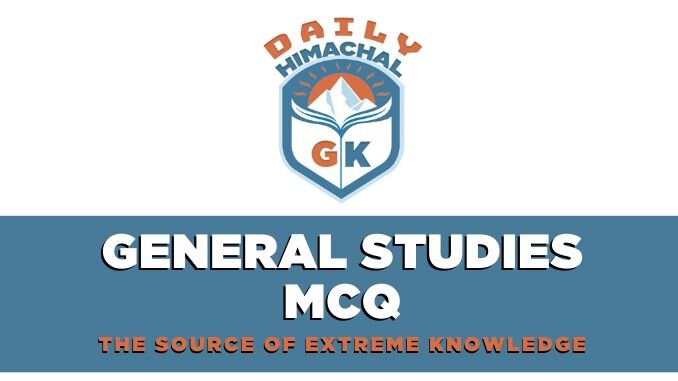 Dear Aspirants,
General Studies MCQs are the basic part of Himachal competitive exams. It is helpful to HPSSSB, and State Bank Exams. It is a series of General knowledge MCQs (including Indian History MCQs, Static gk) that also help in the National level examination, Sainik School, NDA, and army exams, etc.
Q1 The zonal soil type of peninsular India belongs to
(A) Red soils
(B) Yellow soils
(C) Black soils
(D) Older alluvium
Q2 Which of the following has a potential for harnessing of tidal energy in India?
(A) Gulf of Cambay
(B) Gulf of Mannar
(C) Backwaters of Kerala
(D) Chilka lake
Q3 The refineries are Mathura, Digboi and Panipat are set up by
(A) Indian Oil Corporation Ltd.
(B) Hindustan Petroleum Corporation Ltd.
(C) Bharat Petroleum Corporation Ltd.
(D) Crude Distillation unit of Madras Refineries Ltd.
Q4 The principal copper deposits of India lie in which of the following places?
(A) Hazaribag and Singbhum of Bihar
(B) Khetri and Daribo areas of Rajasthan
(C) Anantapur in Andhra Pradesh
(D) Siwaliks in Uttar Pradesh and in Karnataka
Q5 The oldest oil refinery in India is at
(A) Digboi, Assam
(B) Haldia, near Kolkata
(C) Koyali, near Baroda
(D) Noonmati, Assam
Q6 The oldest oil field in India is the ____ field, in ____
(A) Anleshwar, Gujarat
(B) Bombay High, Maharashtra
(C) Nawagam, Gujarat
(D) Digboi, Assam
Q7 Which of the following food grain crops occupies the largest part of the cropped area in India?
(A) Barley and maize
(B) Jowar and bajra
(C) Rice
(D) Wheat
Q8 The number of major languages, recognized in the Indian Union as official language, are
(A) 15
(B) 22
(C) 12
(D) 9
Q9 Which of the following drainage systems fall into Bay of Bengal?
(A) Ganga, Brahmaputra and Godavari
(B) Mahanadi, Krishna and Cauvery
(C) Luni, Narnada and Tapti
(D) Both (a) and (b)
Q10 Three important rivers of the Indian subcontinent have their sources near the Mansarover Lake in the Great Himalayas. These rivers are
(A) Indus, Jhelum and Sutlej
(B) Brahmaputra, Sutlej and Yamuna
(C) Brahmaputra, Indus and Sutlej
(D) Jhelum, Sutlej and Yamuna