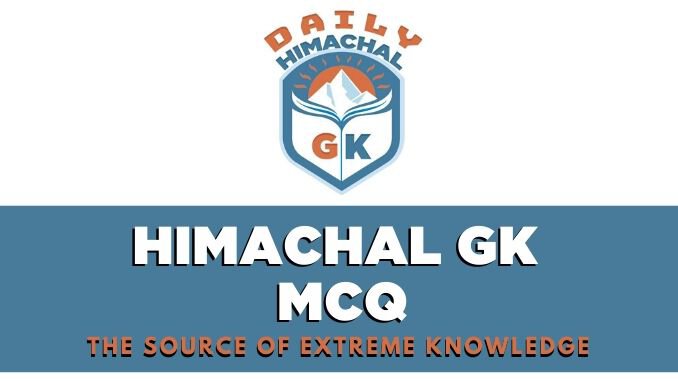 Dear Aspirants,
Himachal Gk MCQs is the basic part of Himachal competitive exams. It is helpful to HPSSSB, HPPSC, and State Banks Exams. It is a series of Himachal Gk MCQs.
Q1. Which king of Mandi tried to develop this principle in his court and officers by adopting the "keep quiet boon" principle?
(A) Surma Sen
(B) Ishwari Sen
(C) Shamsher Sen
(D) Zalim Sen
मण्डी के किस राजा ने "चुप रहना वरदान" सिद्धांत को अपनाकर अपने दरबारियों तथा अधिकारियों में इस सिद्धांत को विकसित करने का प्रयास किया?
(A) सूरमा सेन
(B) ईश्वरी सेन
(C) शमशेर सेन
(D) जालिम सेन
Q2. Which ruler founded the city of Mandi in 1527?
(A) Ishwari Sen
(B) Ajbar Sen
(C) Roop Sen
(D) Lalit Sen
1527 में मण्डी शहर की स्थापना किस शासक ने की?
(A) ईश्वरी सेन
(B) अजबर सेन
(C) रूप सेन
(D) ललित सेन
Q3. In which century was the Mandi state established?
(A) 14th
(B) 10th
(C) 7th
(D) 5th
मण्डी राज्य की स्थापना किस शताब्दी में हुई थी?
(A) 14वीं
(B) 10वीं
(C) 7वीं
(D) 5वीं
Q4. Which king of Mandi was held captive in Nadaun by King Sansar Chand of Kangra for 12 years?
(A) Bahussen
(B) Ishwari Sen
(C) Siddhesen
(D) Suraj Sen
मण्डी के किस राजा को काँगड़ा के राजा संसार चंद ने 12 वर्षों तक नादौन में बंदी बनाए रखा?
(A) बाहुसेन
(B) ईश्वरी सेन
(C) सिद्धसेन
(D) सूरज सेन
Q5. Who were the Europeans who visited Suket in 1820 AD?
(A) Hutchinson
(B) William Moorecroft
(C) Lord Curzon
(D) Lord Mayo
1820 ई. में सुकेत आने वाले यूरोपीय कौन वे ?
(A) हचिन्सन
(B) विलियम मूरक्रॉफ्ट
(C) लार्ड कर्जन
(D) लार्ड मायो
Q6. In which year did Lord Ilgin II visit Mandi?
(A) 1877 AD
(B) 1899 A.D
(C) 1882 A.D
(D) 1908 A.D
लॉर्ड इल्गिन द्वितीय किस वर्ष मण्डी आये थे?
(A) 1877 ई.
(B) 1899 ई.
(C) 1882 ई.
(D) 1908 ई.
Q7. Who built the 'Damdama Mahal' of Mandi city?
(A) Ajbar Sen
(B) Bahussen
(C) Surajsen
(D) Jaichand
मण्डी शहर के 'दमदमा महल' का निर्माण किसने करवाया था?
(A) अजबर सेन
(B) बाहुसेन
(C) सूरजसेन
(D) जयचंद
Q8. What was the ancient name of Sundernagar?
(A) Banad
(B) Dhameri
(C) Balrampur
(D) Himli
सुन्दरनगर का प्राचीन नाम क्या था?
(A) बनेड़
(B) धमेरी
(C) बलरामपुर
(D) हिमली
Q9. Which hill state made the first Panchayati Raj Act in 1934?
(A) Kangra
(B) Mandi
(C) Kullu
(D) Sirmour
1934 ई. में किस पहाड़ी रियासत ने प्रथम पंचायती राज कानून बनाया था?
(A) काँगड़ा
(B) मण्डी
(C) कुल्लू
(D) सिरमौर
Q10. What is the population of Mandi district?
(A) 13,38,815
(B) 11,78,508
(C) 9,99,518
(D) 7,21,231
मण्डी जिले की जनसंख्या कितनी ?
(A) 13,38,815
(B) 11,78,508
(C) 9,99,518
(D) 7,21,231