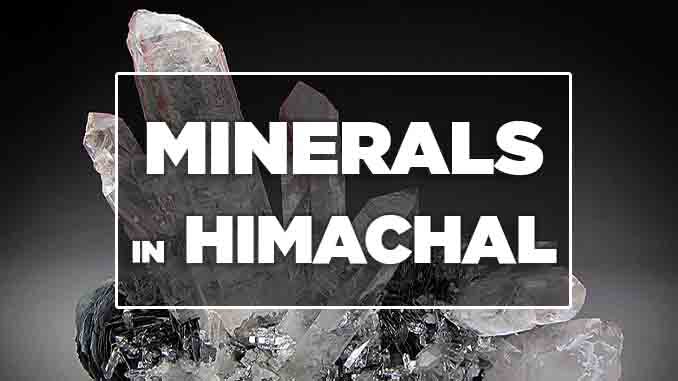 Minerals found in Himachal Pradesh
Himachal Pradesh is rich in natural resources and minerals. Several important minerals like copper, limestone, rock salt, iron, etc. found here. Here is the list of some important minerals that are found in Himachal Pradesh.
FACT : Himachal is the only state in India where Rock Salt is mined.
ASBESTOS
It is a term used to refer to six naturally occurring silicate minerals. All are composed of long and thin fibrous crystals. Many developing countries still support the use of asbestos as a building material. All types of asbestos fibers are known to cause serious health hazards in humans and animals. In Himachal, it is found in Kangra, Mandi, and Shimla district.
QUARTZ
Quartz is a hard, crystalline mineral composed of silicon and oxygen atoms.  varieties of quartz have been the most commonly used minerals in the making of jewelry and hardstone carvings, especially in Eurasia. The word "quartz" is derived from the German word "Quarz" which came from the Polish dialect term kwardy, which corresponds to the Czech term tvrdý ("hard"). It is found in Pin Valley, Spiti Valley, Kullu, and Banjar.
IRON ORE
Iron ores are rocks and minerals from which metallic iron can be economically extracted.  Iron ore is the raw material used to make pig iron, which is one of the main raw materials to make steel—98% of the mined iron ore is used to make steel. In 2011 the Financial Times has speculated that iron ore is "more integral to the global economy than any other commodity, except perhaps oil". Iron Ore contains Silicon, Phosphorus, Aluminium, Sulfur etc. In Himachal it is found in Kangra, Kullu and Kinnaur.
SANDSTONE
Sandstone is a sedimentary rock composed of sand-size grains of mineral, rock, or organic material. It also contains a cementing material that binds the sand grains together. Sandstone is one of the most common types of sedimentary rock and is found in sedimentary basins throughout the world. It is relatively soft, making it easy to carve. It has been widely used around the world in constructing temples, homes, and other buildings. It has also been used for artistic purposes to create ornamental fountains and statues. In Himachal it is found in Hamirpur, Kangra and Sirmaur.
LIME STONE
It is usually an organic sedimentary rock that forms from the accumulation of shell, coral, algal, and fecal debris. Most limestones form in shallow, calm, warm marine waters.  A soft limestone called Chalk with a very fine texture that is usually white or light gray in color. It is found in Bilaspur, Solan, Sirmaur and Shimla.
OTHER MINERALS
Shale: Bilaspur
Silica: Una and Kullu
Cutstone: Kangra
Gypsum: Sirmaur and Kinnaur
Rock Salt : Mandi
Slates: Mandi, Chamba and Kullu
Nickel: Kullu
Cobalt: Kullu
Inputs from : Wikipedia and Himachal Pradesh Department of Industries.