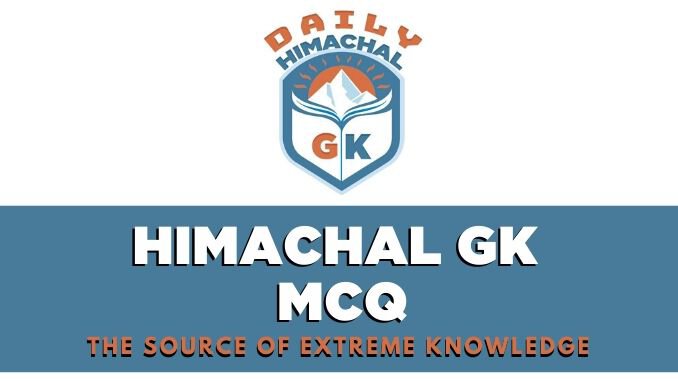 Dear Aspirants,
Himachal Gk Quiz is the basic part of Himachal competitive exams. It is helpful to HPSSSB, and Banks Exams. It is a series of Himachal Gk MCQs.
1 At the time of Timur Lang's invasion (1398 AD), who was the ruler of Hundur (Nalagarh)?
(A) Roopchand
(B) Alamchand
(C) Harisingh
(D) Srichand
तैमूर लंग के आक्रमण के समय ( 1398 ई . ) हण्डूर ( नालागढ़ ) का शासक कौन था ?
(A) रूपचंद
(B) आलमचंद
(C) हरिसिंह
(D) श्रीचंद
2 Which ruler of Nurpur was a contemporary of Sikandar Lodhi?
(A) Bhaktpal
(B) Bhilpal
(C) Nagpal
(D) Prithvipal
नूरपुर का कौन – सा शासक सिकंदर लोधी का समकालीन था ?
(A) भक्तपाल
(B) भीलपाल
(C) नागपाल
(D) पृथ्वीपाल
3 Which miracle forced the Mughal Emperor Akbar to return the golden coin recovered from Jamlu as a royal tax?
(A) Exceptionally moving of royal palaces – Dulling
(B) Lightning from the clean sky
(C) Agra city covered with snowfall
(D) All the members of the royal family's hunger is completely cut off
किस चमत्कार ने मुगल सम्राट अकबर को जमलू से शाही महसूल के रूप में वसूल किये गये स्वर्ण सिक्के को लौटाने हेतु विवश का दिया ?
(A) शाही महलों का असाधारण रूप से हिलना – डुलना
(B) स्वच्छ आकाश से बिजली गिरना
(C) आगरा शहर का बर्फबारी से ढकना
(D) शाही घराने के सभी सदस्यों की भूख एकदम बंद होना
4 Which princely ruler helped the Mughal Emperor Jahangir accept the fort of Kangra?
(A) Nalagarh
(B) Nurpur
(C) Chamba
(D) Guler
किस रियासत के शासक ने मुगल सम्राट जहाँगीर की काँगड़ा का किला हस्तगत करने में मदद की ?
(A) नालागढ़
(B) नूरपुर
(C) चम्बा
(D) गुलेर
5 Which Muslim emperor in the latter half of the 14th century besieged the fort of Nagarkot for six months and forced his ruler to surrender?
(A) Mahmud Ghaznavi
(B) Muhammad bin Tughluq
(C) Ferozeshah Tughlaq
(D) Muhammad Gauri.
14वीं सदी के उत्तरार्द्ध में किस मुस्लिम बादशाह ने छः माह तक नागरकोट के किले पर घेरा डालकर उसके शासक को आत्मसमर्पण करने पर विवश कर दिया था
(A) महमूद गजनवी
(B) मुहम्मद बिन तुगलक
(C) फिरोजशाह तुगलक
(D) मुहम्मद गौरी ।
6 1337 AD. Who Muslim ruler captured Kangra (Nagarcoat) Fort?
(A) Muhammad bin Tughlaq
(B) Samurlang
(C) Mahmud Ghaznavi
(D) Muhammad Gowri
1337 ई . में किस मुस्लिम शासक ने काँगड़ा ( नागरकोट ) किले पर कब्जा किया था ?
(A) मुहम्मद बिन तुगलक
(B) सैमूरलंग
(C) महमूद गजनवी
(D) मुहम्मद गौरी
7 300 Sanskrit books which were translated into Persian by the command of Ferozeshah Tughlaq were kept in which of the following temples?
(A) Jwalamukhi
(B) Masroor
(C) Baijnath
(D) Trilokinath
300 संस्कृत पुस्तके जिनका फिरोजशाह तुगलक की आज्ञा से फारसी में अनुवाद किया गया था , निम्नलिकिन में से किस मंदिर में रखी गई थीं ?
(A) ज्वालामुखी
(B) मसरूर
(C) बैजनाथ
(D) त्रिलोकीनाथ
8 Dara Shikoh's wife treated the king of which princely state as her son?
(A) Kangra
(B) Sirmaur
(C) Nurpur
(D) Guler
दाराशिकोह की पत्नी ने किस रियासत के राजा को अपने बेटे की तरह माना ?)
(A) काँगड़ा
(B) सिरमौर
(C) नूरपुर
(D) गुलेर
9 Who was the king of Kangra at the time of Mahmud Ghaznavi's invasion in 1009?
(A) Deep Chand
(B) Jagdish Chand
(C) Laxman Chand
(D) Shri Chand
1009 में महमूद गजनवी के आक्रमण के समय काँगड़ा का राजा कौन था ?
(A) दीप चंद
(B) जगदीश चंद
(C) लक्ष्मण चंद
(D) श्री चंद
10 At the time of the invasion of Muhammad bin Tughlaq (1337 AD). Who was the king of Kangra?
(A) Jaichand
(B) Srichand.
(C) Prithvi Chand
(D) Deepchand
मुहम्मद बिन तुगलक ( 1337 ई . ) के आक्रमण के समय । काँगड़ा का राजा कौन था ?
(A) जयचंद
(B) श्रीचंद
(C) पृथ्वीचंद
(D) दीपचंद