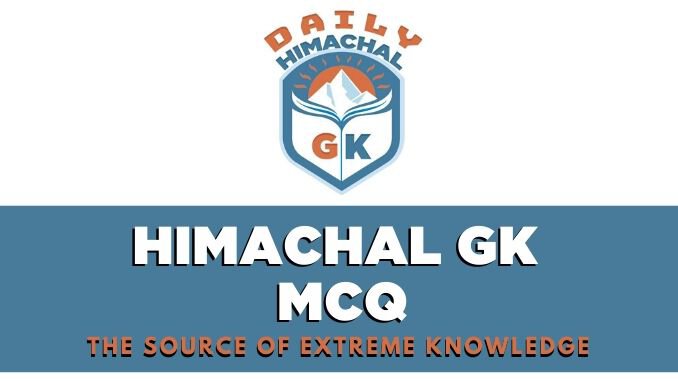 Dear Aspirants,
Himachal Gk Quiz is the basic part of Himachal competitive exams. It is helpful to HPSSSB, and Banks Exams. It is a series of Himachal Gk MCQs
Q1. Giri river originates from which peak?
(A) Kuper Peak
(B) Solang Peak
(C) Hanuman Tibba
(D) Shilla Peak
गिरी नदी किस चोटी से निकलती है ?
(A) कुपर चोटी
(B) सोलांग चोटी
(C) हनुमान टिब्बा
(D) शिल्ला चोटी
Q2. Where does Sutlej enter Himachal Pradesh?
(A) Shipki (Kinnaur)
(B) Shilla (Kinnaur)
(C) Pooh (Kinnaur)
(D) Tapri (Kinnaur)
सतलुज हिमाचल प्रदेश में कहाँ पर प्रवेश करती है ?
(A) शिपकी ( किन्नौर )
(B) शिल्ला ( किन्नौर )
(C) पूह ( किन्नौर )
(D) टापरी ( किन्नौर )
Q3. Which of the following statements is not true is?
(A) The Sutlej originates from Mansarovar Lake (Tibet).
(B) Beas originates from Beas Kund near Rohtang Pass.
(C) Ravi originates from Bhangal Bhangal in Kangra.
(D) The Yamuna originates from Pooh (Kinnaur).
निम्नलिखित में से कौन – सा कथन सत्य नहीं है ?
(A) सतलुज मानसरोवर झील ( तिब्बत ) से निकलती है ।
(B) ब्यास रोहतांग दर्रा के पास ब्यास कुण्ड से निकलती है ।
(C) रावी काँगड़ा में बड़ा – भंगाल से निकलती है ।
(D) यमुना पूह ( किन्नौर ) से निकलती है ।
Q4. The Sanskrit name of which river is 'Vipasha'?
(A) Sutlej
(B) Ravi
(C) Beas
(D) Yamuna
किस नदी का संस्कृत नाम ' विपाशा ' है ?
(A) सतलुज
(B) रावी
(C) ब्यास
(D) यमुना
Q5. At which place, Yamuna river  Enters Haryana after leaving?
(A) Nahan
(B) Tajewala
(C) Peeta Sahib
(D) Khodri Majri
यमुना नदी किस स्थान पर हि.प्र . से निकलकर हरियाणा में प्रवेश करती है ?
(A) नाहन
(B) ताजेवाला
(C) पीटा साहिब
(D) खोदरी माजरी
Q6. 'Giriganga' At which place does the Yamuna river merge?
(A) Tajewala
(B) Khodri Majri
(C) Rampur Ghat
(D) Bhangal
' गिरिगंगा ' किस स्थान पर यमुना नदी में विलय होती है ?
(A) ताजेवाला
(B) खोदरी माजरी
(C) रामपुर घाट
(D) भांगल
Q7. Tons River at which place the river Yamuna merges. Yamuna H.P. from that place Enters
(A) Tajewala
(B) Khodri
(C) Rampur Ghat
(D) Panta Sahib
टोंस नदी किस स्थान पर यमुना नदी में विलय करती है । उस स्थान से यमुना हि.प्र . में प्रवेश करती है ?
(A) ताजेवाला
(B) खोदरी
(C) रामपुर घाट
(D) पाँटा साहिब
Q8. 'Baspa' is a tributary of
(A) Ravi
(B) Vyas
(C) Sutlej
(D) Yamuna
' बस्पा ' किसकी सहायक नदी है ?
(A) रावी
(B) व्यास
(C) सतलुज
(D) यमुना
Q9. Duling, Soldang, and Gambhar whose tributaries
(A) Vyas
(B) Sutlej
(C) Ravi
(D) Chenab
दुलिंग , सोलदांग , और गम्भर किसकी सहायक नदियाँ है ?
(A) व्यास
(B) सतलुज
(C) रावी
(D) चिनाव
Q10. At which place is the water of the Beas river mixed with a tunnel in Sutlej?
(A) Mandi
(B) Pandoh
(C) Pong
(D) Kangra
किस स्थान पर व्यास नदी का पानी सुरंग से सतलुज में मिलाया जाता है ?
(A) मण्डी
(B) पण्डोह
(C) पौंग
(D) काँगड़ा