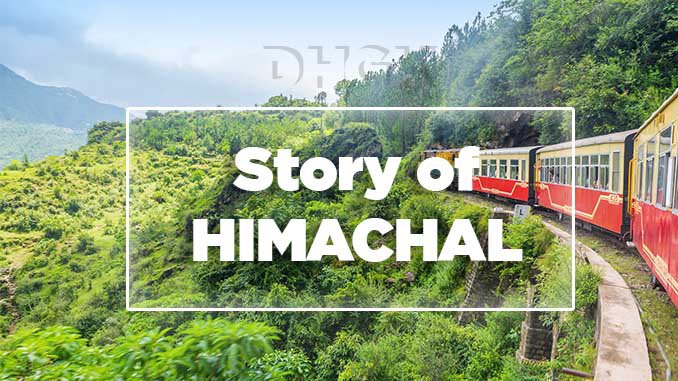 1914 – 1915 A.D. – For organizing a branch of Gaddar Party in Mandi, Mian Jawahar Singh, Rani Khairigarhi (Lalita Kumari), Badri, Sidhu and Kharara were sentenced to long terms of imprisonment.
1921 A.D. – On May 11, 1921, Mahatma Gandhi visited Shimla for the first time (for a series of interview with Lord Reading) . He stayed in the Shanti Kutir at the Summer Hill Shimla.
1925 A.D. – On August 21, Lord Reading, the then Viceroy of India, inaugurated the Central Council Chamber, Shimla. Presently this building houses the Himachal Pradesh Vidhan Sabha Chamber.
1926 A.D. – 113 Km. long Pathankot-Jogindernagar narrow gauge Railway line construction was started. This Railway was inaugurated for traffic on April 1, 1929.
1927 A.D. – Political Conference of the Congress Party was organized at Tal in Sujanpur Tira. AND On the Kalka-Shimla Railway line, Railcar service was introduced.
1930 A.D. – Dandra movement against the mal administration of the Bilaspur ruler Raja Anand Chand took place.
1932 A.D. – Chamba People's Defense League was formed with its headquarter at Lahore.
1933 A.D. – Mandi legislative Council was constituted.
1936 A.D. – Chamba Sevak Sangh was founded.
1938 A.D. – At Ludhiana session of All India States People conference, the Shimla Hill States Himalayan Riyasti Praja Mandal was formed .
1939 A.D. -Sirmaur Praja Mandal was founded. AND On July 16, 1939 Dhami Firing took place. Police opened fire at the Dhami Praja Mandalists who were infuriated at the arrest of their leader Bhag Mal Sautha.
1942 A.D. – Under the leadership of Vaid Surat Ram Pajhota Movement in Sirmaur state started to protest against their Raja's assistance to the British War effort during the Second World War Praja Mandalists raised the slogan "Bhai do na Pai".
1944 A.D. – Sirmaur Riyasti Praja Mandal was founded.
AND Azad Hind Fauz patriot Major Durga Mal was hanged at Red Fort, Delhi, who was from Dharmsala .
AND A.D – In the Memory of winning the Second World War Victory Tunnel of Shimla was constructed by the British.
1946 A.D. – In June, 1945 Lord Wavell, the then Viceroy of India, convened the All Party Conference at Shimla (popularly known as Shimla conference).
AND Himalayan Hill State Regional Council was formed by the integration of the Praja Mandals of various princely states. Its headquarter was at Shimla. It was headed by Swami Poornanand and its first session (Mandi Conference) was held on March 8th – 10th, 1946.
1947 A.D. – Theog became the first princely state of Himachal Pradesh to be merged with the Indian Union on August 17.
1948 A.D. – On January 26, Interim government headed by Shiva Nand Ramaul was set up in Himachal Pradesh. AND On January 26-28, Solan Conference of the rulers of princely states was held under the Chairmanship of Raja Durga Chand of Baghat State. The announcement for the formation of Himachal Pradesh was made in this conference. AND On February 18, Suket Satyagraha was launched under the leadership of Pt. Padam Dev from Tattapani against the ruler of Suket Dominion. AND On April 15, Himachal Pradesh came into being as a Centrally Administered Chief Commissioner's Province with 4 districts- Chamba, Mandi, Mahasu, and Sirmaur by the integration of 26 Shimla hill states and 4 Punjab hill states.